This is what was for lunch today and it was so delicious I thought I'd share!
I toasted up one of my beloved gardenburgers in the toaster oven (I like the little crunch that they toaster oven gives to the burger).
Then I chopped it into big chunks and put it over my salad, which I had tossed in a mustard vinaigrette, then sprinkled a little vegan cheese on top (I used Follow Your Heart Monterrey Jack) and it was YU-UM!!!!
Here's the recipe for the dressing…
Mustard Vinaigrette
Ingredients:
1 Tablespoon mustard (whatever kind you like)
1 Tablespoon red or white wine vinegar
3 Tablespoons Olive Oil
Directions:
Add all ingredients to a small bowl and whisk until well combined.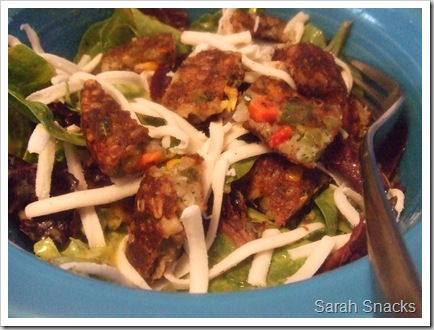 I also made a little fruit salad to go with.  Drizzled with a little agave nectar!  mmmm!