I'm don't these need an introduction.  They're that good.  Heart shaped.  Strawberries.  Chocolate.  Enough said.
Love is in the air y'all!
Chocolate Covered Strawberry Donuts
Prep Time: 5-10 min
Cook Time: 10-12 min
Keywords: bake dessert vegan vegetarian strawberries Chocolate whole wheat pastry flour donuts
Ingredients (12-16 donuts depending on pan)
For Donuts:
1 cup whole wheat pastry flour
1 cup all purpose flour
1/2 cup sugar
1/2 T baking powder
1/2 t salt
pinch each of cinnamon and nutmeg
1 cup frozen strawberries, defrosted and mashed up (I just used a fork to lightly mash them)
1 cup nondairy milk
1/4 cup applesauce
2 T Earth Balance (or butter), melted
1 t vanilla extract
For Chocolate Glaze:
1/2 cup powdered sugar
2 T cocoa powder
2 T nondairy milk
Instructions
Preheat oven to 350 degrees F. Spray donut pan with nonstick spray.
In a medium bowl, combine flours, sugar, baking powder, salt, cinnamon and nutmeg.
Add milk, applesauce, mashed strawberries, Earth Balance (or butter), and vanilla. Stir until just combined.
Pipe batter into donut pan using a piping bag or a Ziploc bag with the corner snipped off. You can spoon it in but they look better after being baked if you pipe it in.
Bake for 10-12 minutes until lightly brown.
While donuts are cooling prepare the chocolate glaze by combining the powdered sugar, cocoa powder, and milk in a small bowl.
Dip the top of each donut into the chocolate glaze and let them hang out on a cooling rack until the glaze firms up.
How cute is this heart shaped donut pan?!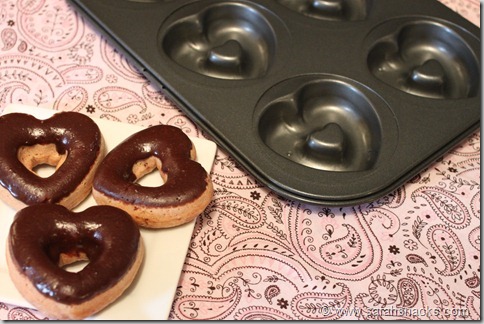 Love at first bite!!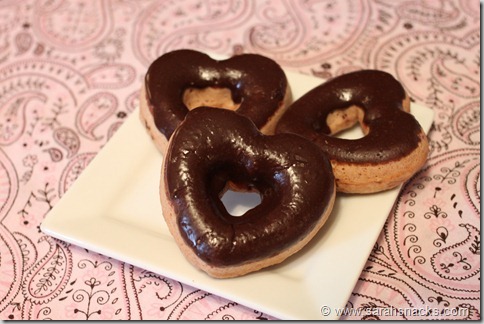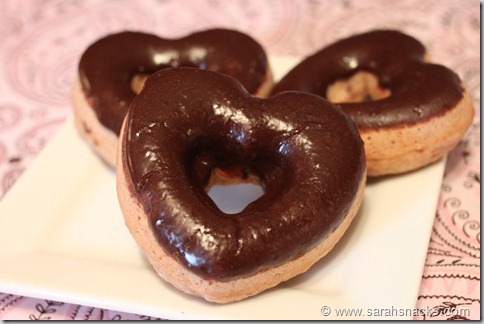 P.S. Don't fret if you don't have a donut pan- just make them into muffins in your muffin pan and drizzle the tops of each muffin with some of the chocolate glaze!
Happy Valentine's Day!