I am posting from my new laptop!  Yipee!  The top pretty much fell off of the old one and the keyboard completely comes off.  It was time to bite the bullet and get a new one!  My old laptop still works and I will probably keep it, but keep it stationary and on the desk in the office until it just completely disintegrates.  Can you tell I don't like to throw stuff away?  I tend to be a bit of a packrat sometimes, lol.  Plus my new laptop is a netbook and its kinda small so I want to keep the old one around in case I need to do something that requires a bigger screen.
But my netbook isn't just any ole netbook!  Most netbooks have only about 150GB hard drive and 1G memory but this one has a 250GB hard drive and 3G ram!  Woot!  It's about the same as my old laptop storagewise but it's SO much faster!  So I will be able to run Office for any papers that I will need to write for school as well as put all of my music and pictures on it!  PLUS, I will be able to carry it around in my bag at school because it only weighs TWO pounds!!  And the school has wireless internet all over campus so I can just pull it out any time I need to use it and hop on the internet.  Can you tell I'm really excited?  I have something I can carry around with me and I can start saving up for a full size laptop for when my old laptop finally completely falls apart.
My new laptop!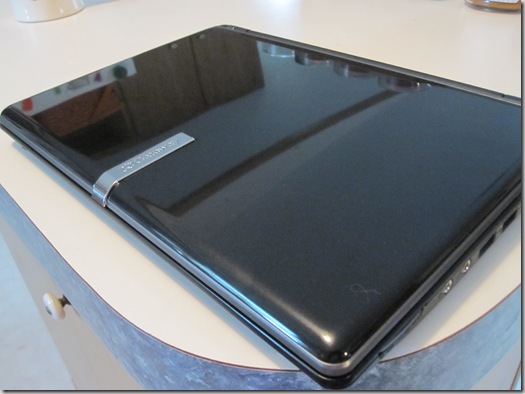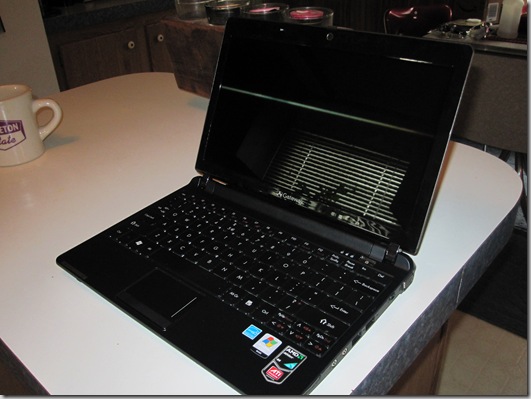 Compared to the size of my hand.  Little, huh?  It's not quite as small as most netbooks, though- the screen is 11.2 inches, most are 8-10 inches.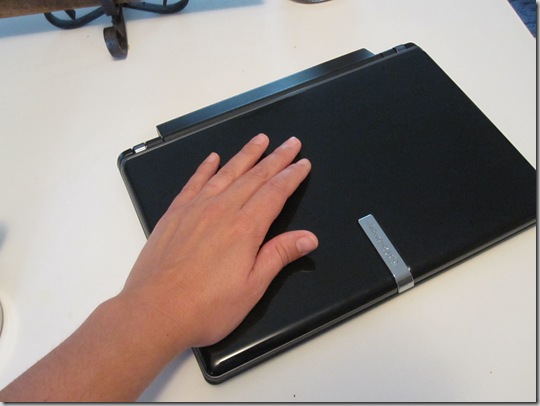 Anywhoo… I pretty much spent all afternoon playing around with the new laptop, then Justin and I went put for dinner to use a gift card that we got for our birthdays.  It was for Applebees.  I'm not a huge fan, but a free meal is a free meal, right?  And it was a really thoughtful gift!  I got some grilled tilapia.  It was actually pretty good, I was pleasantly surprised.  I don't necessarily like the chain restaurants and I envy all of the people that live in places that have really cool local restaurants.  We just don't have stuff like that around here.  Those local little restaurants just don't last around here, so we're stuck with stuff like Chili's, Applebees, Red Lobster, and every fast food place you could ever think of.  It gets really frustrating that there aren't any places that we can go to get a really good healthy meal!
So that brings us to today!
This morning was OATS!  And they were awesome oats at that! 
In my oats this morning… 
1/4 cup oats
1/4 cup oat bran
1/2 cup vanilla almond milk
1/2 cup water
1/2 banana
Toppings…
spoonful of almond butter
sprinkle of coconut
sprinkle of chocolate chips
yum yum yum!!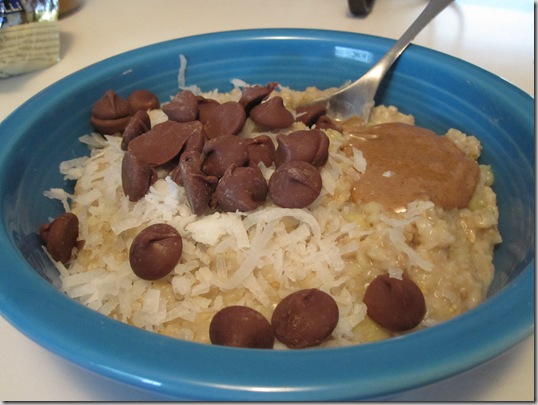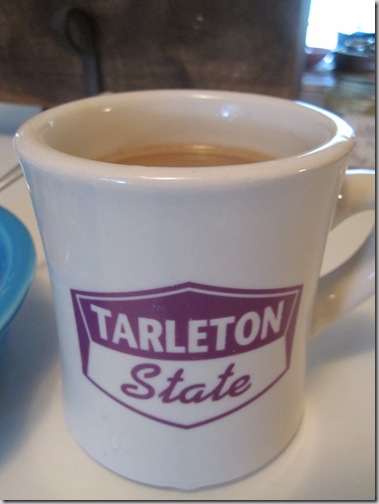 Time for lunch- I'm starving!
Later!