Black Bean Quinoa Salad
Ingredients:
1 ½ cups quinoa
3 cups vegetable broth
1 can drained and rinsed black beans
1 cup frozen corn
1/2 red bell pepper, finely chopped
1/2 cup green onions, chopped
1 cloves garlic, minced
handful of chopped fresh cilantro
Ingredients for Dressing:
6 T fresh lime juice
1 tsp salt
1 tsp ground cumin
1 tsp chili powder
3 T olive oil
Directions:
Rinse quinoa thoroughly
Bring veggie broth to a boil.  Add quinoa and reduce to a simmer.  Cook covered for 15-20 minutes or until all liquid is absorbed. Remove from heat and let cool.  (OR you can skip this if you have a rice cooker- just throw it all in there, turn it on and let it do its thang!)
When the quinoa is completely cooled add the black beans, corn, bell pepper, green onions, garlic, and cilantro.
Whisk together the dressing ingredients- lime juice, salt, cumin, chili powder, and olive oil.
Pour the dressing over the mixture and stir thoroughly.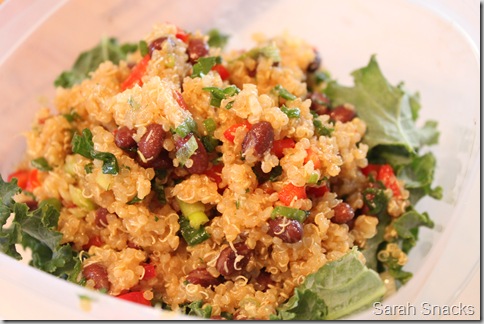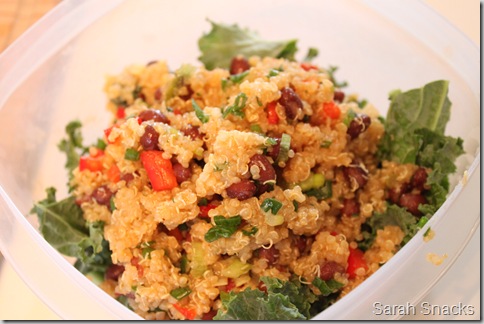 You can serve this at room temperature immediately or you can let it hang out in the fridge for a while- it tastes even better the next day!  I like to serve this over a big handful of spinach or kale!
Enjoy!