There's not much better on a chilly day than a nice spicy soup and this definitely hits the spot!  Top with your favorite toppings like cheese, tortilla strips, sour cream, avocado, and cilantro.  So Good!!!
Crockpot Enchilada Soup
(Print this recipe!)
Prep Time: 5-10 min
Cook Time: 6-8 hrs
Keywords: slow-cooker soup/stew vegan vegetarian fire roasted tomatoes Mexican
Ingredients (4 large servings)
3 cups vegetable broth
2 t cumin
2 t chili powder
1/2 t cayenne
28 oz fire roasted crushed tomatoes
2 jalapenos, seeded and diced
1 bell pepper, chopped
1 onion, chopped
2 cloves garlic, minced
1 can black beans
1 small can tomato paste
2 big handfuls of tortilla chips, crushed (this will be added at the end to thicken the soup and add a fantastic flavor)
Instructions
Add all ingredients except tortilla chips into crockpot.
Let cook on low for at least 6 hours.
Add crushed tortilla chips and stir well- this will not only thicken the soup more but it will add more of an enchilada flavor as the crushed chips melt into the hot soup.
Let cook for another hour.
Ladle into bowls and top with your favorite toppings- cheese, more crushed tortilla chips, avocado, sour cream, etc…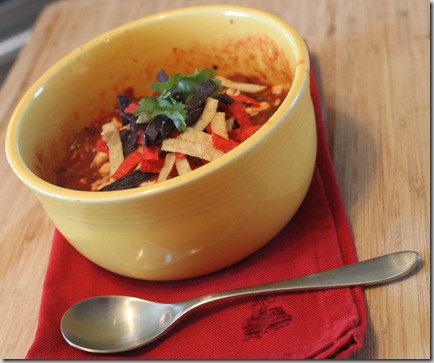 Enjoy!