Hey friends!!!  School is officially back in session and I have a few random thoughts on my classes/teachers…
1. One of my teachers might be insane.  Literally.
2. I HATE classes that are all interactive/group workey.  I like to go in, sit down, listen to an amazing lecture and take notes.  That's the kind of class that I enjoy and I learn better that way because I'm not thinking about how much I hate doing stupid activities and group work the whole time.
3. One of my teachers is making us sit in assigned seats.  In alphabetical order.  I'm not even kidding.  I'm 31 years old people and I'm in COLLEGE- not elementary!
4. My GTA for food science lab is maybe the funniest and craziest people I've ever met and I want to be her BFF!
5. I'm already in love with my Sports Nutrition class.  I'm totally obsessed with it and I've already read several of the chapters in the textbook even though I don't need to read them yet.  This is a career path that I am definitely interested in learning more about.  The subject is fascinating.  I just wish the class was a lecture class instead of online.
I took my WIAW pics yesterday so I could show some examples of some typical school-day meals.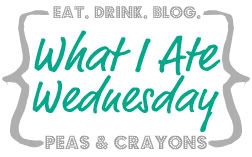 For breakfast I usually stick to toast/cereal/fruit type things because it's easy and quick.  But since it was the first day of school I decided to actually make something.  I made the pumpkin cream pie oats from the Peas and Thank You cookbook. (p.s. this cookbook is amazing- you should get it ASAP!)
I topped it with some Barney Butter from my HLS swag bag and a drizzle of agave nectar- it was SO good, but I think I'll appreciate it more when the weather cools off a bit(it was 106 yesterday!!!)
(oh and p.s. I took all these pics from my new cell phone (the Samsung Infuse).  It has an amazing camera for a phone!!)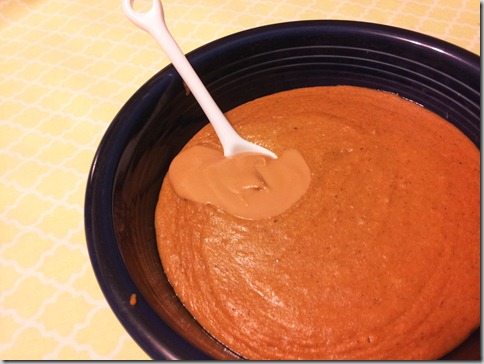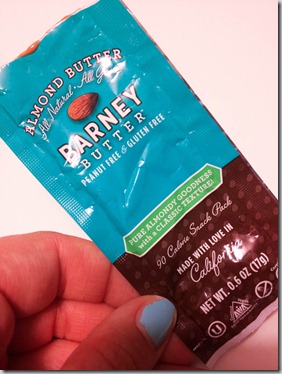 I packed up a nice assortment of goodies for lunch/snacks for school.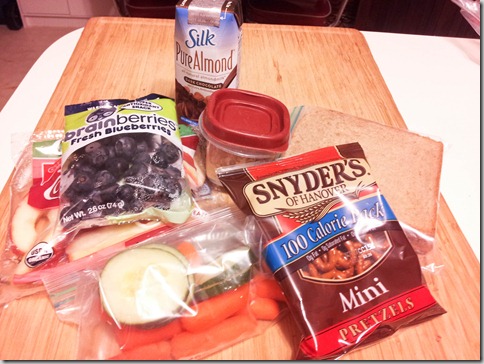 Lunch was a PB&J on whole wheat, carrots + cukes + pretzels with hummus for dipping.  The apple slices and blueberries and dark chocolate almond milk were for between class and driving home snacks.
Dinner was easy thanks to all the preparation I did for this week by pre-chopping all my veggies!
Portobello Peppersteak stew served over Caulipots(mashed cauliflower+potato) from the Appetite for Reduction cookbook.  I used all portabellas instead of the using seitan and portabellas because I'm not a huge fan of seitan.  Oh. My. Goodness. This was sooooo good!  Definitely will be making this again!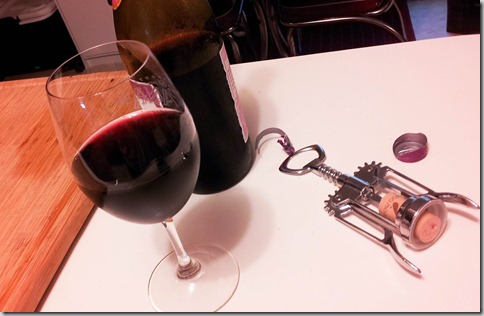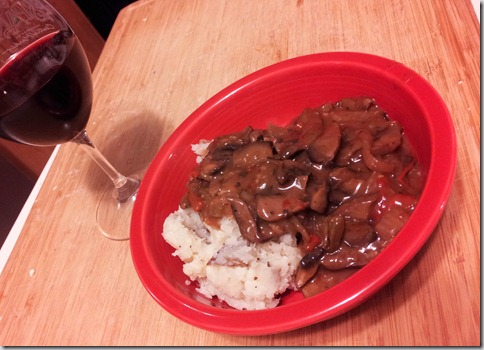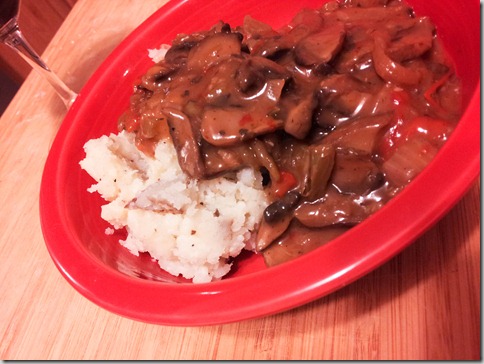 I also thought I would include a What Harley Ate Wednesday in this post.  She decided one of my textbooks looked tasty.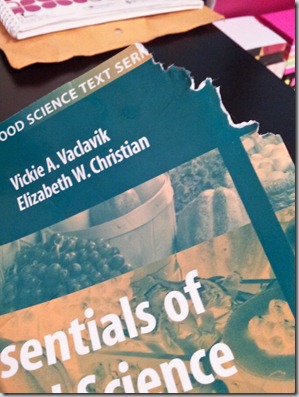 The cute face is deceiving people.