Hooray for March!  The best thing about March is that spring is on its way!!  I was thinking about new year's resolutions and whatnot and I decided that I maybe should start making monthly resolutions/goals for myself cause I kinda already forgot what my new years resolutions were, haha!
So here are my goals for March…
Food…
Watch my calorie count more carefully.  I'm eating really healthy stuff, just way too much of it!
Get more calcium.  My local HEB has kale for $.99 a bunch, look out calcium here I come!  Can you say massaged kale salad?!  YUM!
Get up a little earlier to make sure I have time to make some green juice!
Blog…
Blog at least 5 times a week.
Take more pictures
Play with lighting and my new camera's features more!
Exercise…
Start training for the 10K I'm going to do this summer!  Right now I'm at a comfortable 4 miles.  By the end of this month I'd like to be able to run a comfortable 5 miles- I think I can handle an extra mile in a months time!
Lift weights more often.  Now that I hit my thirties(yikes!) I worry about my bones more.  Nothing better than some weight bearing exercise to protect your bone density!
Personal life…
KISS (keep it simple Sarah).  I do SO much better in life when I just keep it simple!
stick to the budget better- I'm HORRIBLE at this!!
Turn negatives into positives.  For example, yes school is stressful, yes A&P sucks and the teacher isn't so great HOWEVER I'm learning so much COOL stuff that I didn't know before!!  Yes, I got screwed by financial aid this year and I have to work and try to balance school, HOWEVER I have a really cool job that will look great on my internship applications and I'll owe a little less in student loans when I graduate because I didn't get as much this year.  How's that for you?!  I think we could ALL use a little less negativity in our lives, don't you think?
Oh and it's Texas Independence Day today!  Happy Birthday Texas!!!!!!!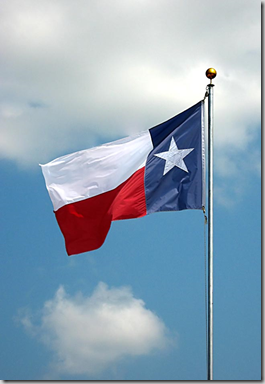 See you tomorrow- happy snacking!