These muffins are seriously amazing!  You could go with the traditional banana nut variety or with the banana chocolate chip variety or you could go half and half.  Any way you go, you can't go wrong!!
Banana Muffins 2 Ways
(Print this recipe!)
Prep Time: 5 min
Cook Time: 20-25 min
Keywords: bake dessert snack vegan vegetarian whole wheat pastry flour muffin
Ingredients (12 muffins)
2 cups whole wheat pastry flour
1/2 teaspoon salt
1/2 teaspoon cinnamon
1 Tablespoon baking powder
1/2 cup organic sugar
1 cup unsweetened nondairy milk
3 very ripe bananas, mashed
1 teaspoon vanilla
1/2 cup chocolate chips, plus more for sprinkling on top OR 1/2 cup walnuts, chopped, plus more for sprinkling on top
Instructions
Preheat oven to 350 F. Spray muffin pan lightly with cooking spray.
Combine flour, baking powder, salt, and cinnamon in a medium sized bowl.
In small bowl combine mashed bananas, sugar, nondairy milk, and vanilla.
Fold in chocolate chips or chopped walnuts.
Divide batter evenly into the muffin pan. You should get 12 muffins.
Sprinkle a few more chocolate chips or chopped walnuts on top of each muffin.
Bake muffins for 20-25 minutes until toothpick inserted into a muffin comes out clean.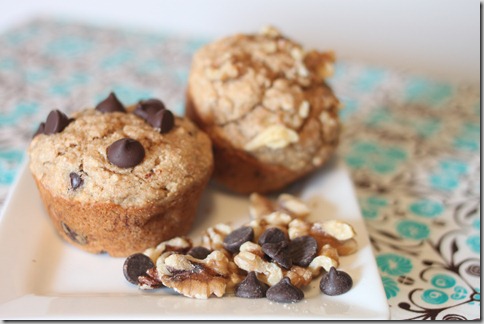 Mmmmmm
Enjoy!