Happy Meatless Monday friends!
On Wednesday I promised an awesome stuffed mushroom recipe and here it is!!  Hope you enjoy!
Pizza Stuffed Mushrooms
(Print this recipe!)
Ingredients:
4 Portobello mushrooms (you could also do this with baby bellas)
1/2 onion, diced
1/2 bell pepper, diced
1 clove garlic, minced
3/4 cup of your favorite pizza or pasta sauce
1/2 cup mozzarella (I like Daiya), plus 1/4 cup for sprinkling on top
1/2 cup whole wheat bread crumbs
1 teaspoon Italian seasoning
Directions:
Preheat oven to 400 F.
Lightly scrape the gills out of your mushrooms (you don't have to if you don't want to, but I find the gills kind of oogey so I like to scrape them out) and wipe them down with a damp towel to clean them.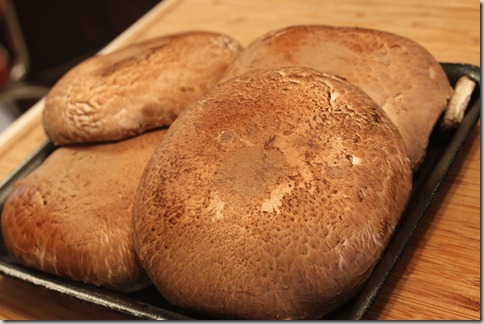 Sauté onion and bell pepper on medium heat until tender. (I like to sauté my veggies with a little vegetable broth instead of oil!)
Add garlic and sauté until fragrant.
Remove veggies from the heat and place into a bowl with Italian seasoning, sauce, breadcrumbs, and cheese.
Divide the mixture between the mushrooms and sprinkle the tops with a little more cheese.
Bake in the 400 F oven for 45-50 minutes.
We served ours with a big pile of steamed broccoli and some salad!
So. Good.
Mushrooms.  Pizza.  Cheese.  Can't go wrong there my friends!
Have a great week!