This is my spin on a recipe that was in a recent weight watchers weekly that we receive at meetings.  This is great as a side dish or you can make a meal of it!  You can bump up the nutrition even more by adding some cannellini beans!
Barley, tomato, arugula, and spinach salad
(Print this recipe!)
Prep Time: 5 min
Cook Time: 30 min
Keywords: sauté salad side vegan vegetarian barley tomatoes arugula spinach
Ingredients (4 servings)
2 cups water
1 cup pearled barley
2 cups grape or cherry tomatoes, halved
1/2 small onions, finely diced
2 cloves garlic
1 cup fresh arugula
1 cup fresh baby spinach
salt and pepper to taste
Instructions
Bring water to a boil. Add barley and reduce heat to low. Let cook about 30 mins or until barley is tender. (you can also do this in your rice cooker!). Set aside.
Over medium heat, saute onion in a medium skillet until it starts to get tender.
Add tomatoes and garlic and saute until the tomatoes soften.
Add barley and stir until combined.
Stir in arugula and spinach until wilted.
Season with salt and pepper, to taste and remove from heat.
Eat warm or cold- either way it's delicious!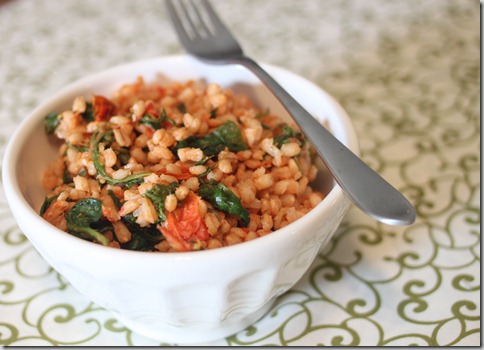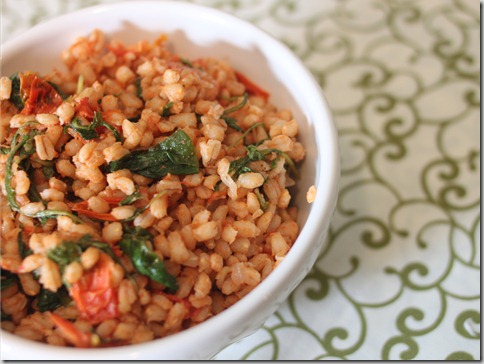 I know what I'm having for lunch today!!
Enjoy!