There's not much that's better than a delicious donut.  Especially one that's… healthy?  Wait, what's that?  Donut?  Healthy?
Of course- and it's all thanks to this!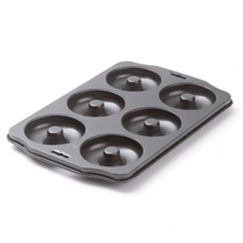 Now you can BAKE a donut.  You get to control the ingredients in your donuts.  And they're baked, not fried so it won't leave your tummy hurting (I have a pretty sensitive stomach and too much fat really does a number on my tummy!).
I got my donut pan on Amazon.  I originally got the regular sized 6-count donut pan.  Then I was browsing around Hobby Lobby one day and I noticed that they had donut pans too.  So I got one of the 12-count mini donut pans.  I'm having so much fun experimenting with different recipes for donuts!
First up is a blueberry glazed donut that will knock your socks off!  These donuts are low fat and vegan but don't let that fool you because they're amazing!!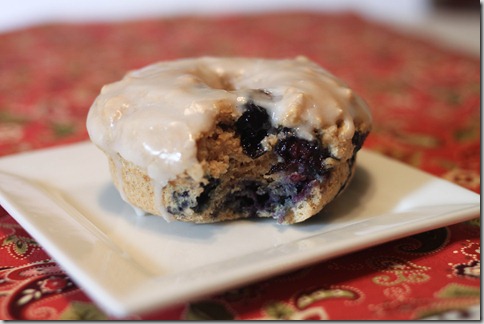 Blueberry Glazed Donuts
(Print this recipe!)
Ingredients:
For the donuts:
1 cup AP flour
1 cup Whole Wheat pastry flour
1 T baking powder
1/2 t cinnamon
1/4 cup applesauce
1/2 cup sugar
1 t vanilla
1 cup non-dairy milk
1 cup blueberries
For the glaze:
1/2 cup confectioners sugar
1-2 T non-dairy milk (depending on the thickness that you prefer for your glaze)
Directions
Preheat oven to 350 degrees F.
Combine dry ingredients in a medium sized bowl.
In a small bowl combine wet ingredients.
Add wet to dry and stir until just combined.
Carefully fold in blueberries.
Spoon mixture into a donut pan that's been sprayed with cooking spray.
Bake for 12-13 minutes until donuts are firm and slightly brown.
Let cool in pan for 5 minutes.
For glaze mix together the confectioners sugar and milk and dip each donut into glaze.  Let donuts sit until glaze hardens. (NOTE: if you store these in an airtight container the glaze will melt so plan accordingly!)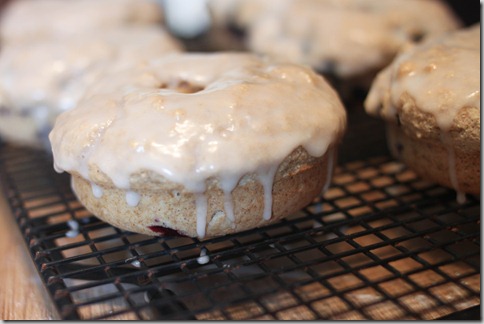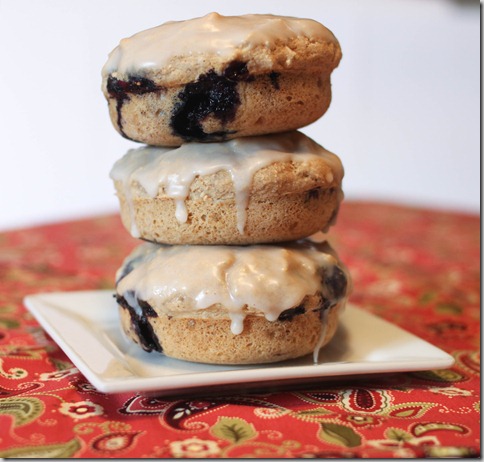 NOM!!
Enjoy!