Last week's weight: 172.2
This week's weight: 172.2
Change this week: 0
Total weight lost:  37.8 lbs!!!!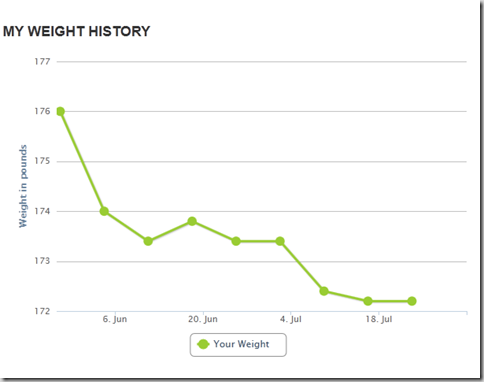 Honestly I wasn't really expecting much of a loss, if any this week.  I haven't been able to work out at all this week.  BUT my bum toe is starting to feel much better (I was actually able to walk on the treadmill yesterday!) so I'm planning to be able to get some exercise in this week!
This week was pretty stressful as well- I had 2 tests, 4 quizzes, an extra credit assignment, and 4 chapters to read for my class.  Stress city!!!
So while I didn't lose weight this week, I'm celebrating because I also didn't gain weight!
Oh, and P.S. today is my last day of work!!!!!
Have a great weekend!