This bread is epic.  I'm not joking.  We're talking life changing here people!  This is so amazing that if you don't have a bread machine I'm suggesting you go out and buy one right this second and immediately make this bread.
I took a bite of this and said holy sh*t this is amazing!  And I'm not much of a curser, so that's how good it is!
As I was filling the cranberry and walnut bins at work I was thinking about cinnamon raisin bread.  (and who doesn't think about cinnamon raisin bread while they're at work, am I right?) and I was like OMG cranberry walnut bread!  And a star was born!
I won't waste any more time jibber jabbering because the more time you spend here reading this the less time you spend making this insanely amazing bread.  And don't be scared of the whole wheat thing- this bread is nice and light and fluffy!!
Whole wheat cranberry walnut bread
(Print this recipe!)
Ingredients:
1 cup warm water
1/4 cup canola oil
1/4 cup agave nectar (honey would work too if that's what you have)
3 cups organic whole wheat flour
1 teaspoon cinnamon
1/2 teaspoon salt
2 teaspoons yeast
1 cup dried cranberries (whole foods has some that are sweetened with apple juice instead of sugar- I recommend those!)
1/2 cup chopped walnuts
Directions:
Add ingredients to bread machine in the order that your bread machine recommends (mine says wet ingredients then dry)
Some people say to add fruit and nuts during the last knead cycle, but honestly I just threw them in there with everything else at the beginning and it worked just fine!
Let your bread machine do its thang! (I used the basic 1- 1 1/2 lb loaf size bread setting with a light crust)
Devour!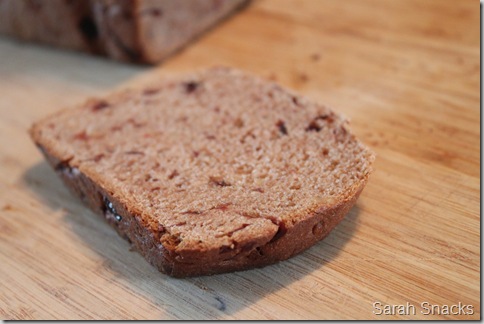 Look at those cranberries and walnuts!!!  (note to self: time to repaint nails!)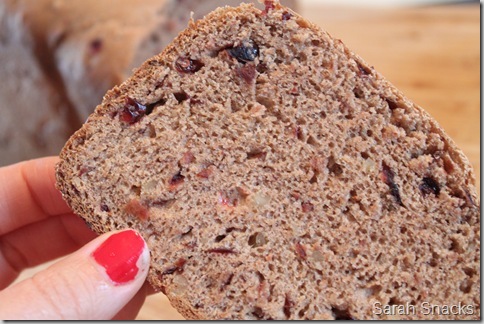 With a little Earth Balance.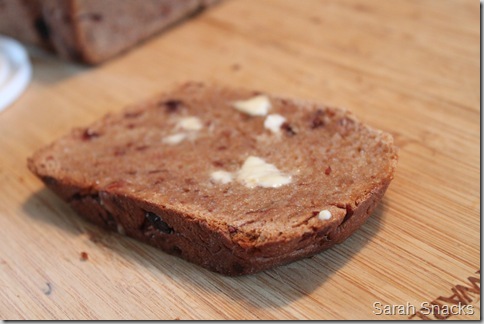 EPIC.