This recipe is just a rif on my go to sandwich bread recipe.  I like how there is just enough oats in it to give it an oaty taste.  This bread makes amazing sandwiches, or it's just good for eating plain or with a little butter and jam too!
Sarah Snacks Go-To Sammy Bread
(Print this recipe!)
Ingredients:
1 1/4 cup warm water (110 F)
2 Tablespoons organic sugar
2 teaspoons yeast
2 Tablespoons canola oil 
1 1/2 cups organic whole wheat flour (I like King Arthur) 
1 1/2 cup organic bread flour (again, King Arthur) 
1/2 cup rolled oats 
1 teaspoon wheat gluten
1 teaspoon salt
Directions:
Into the bread machine goes the warm water, sugar, and yeast.  Let proof for 10 minutes (you can just add it in with the flours if you want, but I really think you get a better rise on the bread if you proof the yeast first- especially since it's mostly 100% whole wheat!)
Once the yeast is proofed, add in the rest of the ingredients according to your bread machines instructions- mine says to do wet ingredients first, then dry.
I set my machine to sandwich bread with a light crust.  And this will be a 1 to 1 1/2 lb loaf.
Let the bread machine do its thang.
(trick to slicing a loaf of sandwich bread… let it cool COMPLETELY before slicing.  I know it's hard to wait, but you'll get more even slices and they won't fall apart as you slice!  Also make sure to use a bread knife!)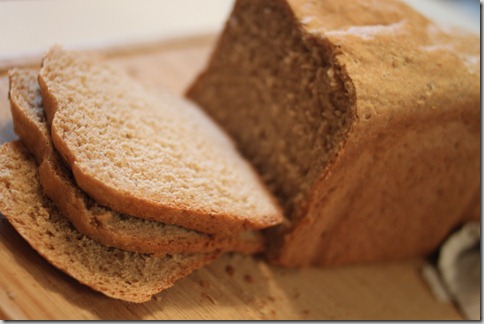 Have a great day!!