Gooey melty chocolate.  There's not much that's better!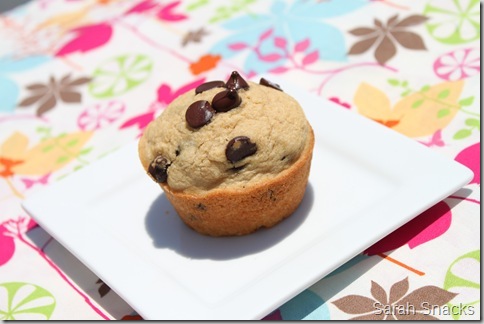 Usually when I'm playing around with recipes I have to make them several times, tweaking them each time before it turns out just right.  But this time it turned out pretty amazing on the very first try!
This is both a treat and a sweet, done in a more healthy way.  No oil or butter necessary.  Made with whole wheat pastry flour- all the nutrition of whole wheat flour without the density.  If you're not already baking with it you definitely should be(I usually get it in bulk at my local health food store, but Arrowhead Mills, Bobs Red Mill, and King Arthur Flour are some brands to look for)!
These babies clock in around 133 calories and are super easy to make, so get in that kitchen and get to baking!
Whole Wheat Chocolate Chip Muffins (makes 12 muffins)
(Print this recipe!)
Ingredients:
2 cups whole wheat pastry flour
1/2 teaspoon salt
1 Tablespoon baking powder
1/2 cup organic sugar
1 cups unsweetened almond milk
1/2 cup unsweetened applesauce
1 teaspoon vanilla
1/2 cup chocolate chips, plus more for sprinkling on top
Directions:
Preheat oven to 350 F.  Spray muffin pan lightly with cooking spray.
Combine dry ingredients in a medium sized bowl.
Add wet ingredients and stir until just combined.
Fold in chocolate chips.
Divide batter evenly into the muffin pan.  You should get 12 muffins.
Sprinkle a few more chocolate chips on top of each muffin.
Bake muffins for 20-25 minutes until toothpick inserted into a muffin comes out clean.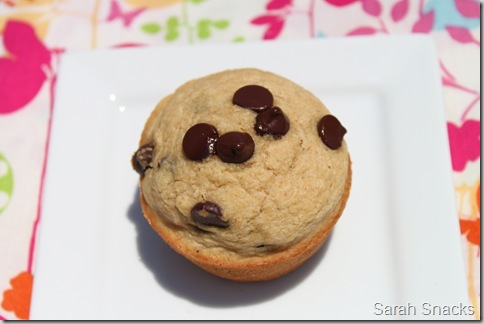 Mmmmm- melty chocolate!  Yes, they really are as good as they look!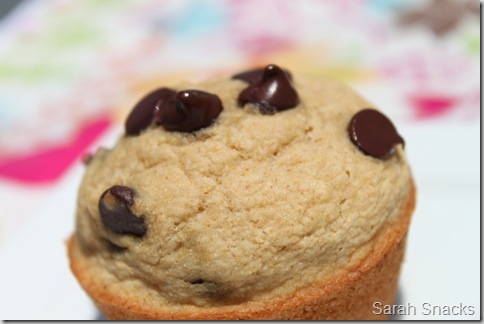 P.S. I found myself thinking "work it baby!" as I was taking these pictures.  Ahh, I'm such a nerd!