Happy National Chocolate Cake day!!!
Sometimes you want to splurge on something full of sugar, fat and pure decadence.  And that's A-Okay!  In fact moderation is a big part of living a healthy lifestyle!  But sometimes you just want something sweet and chocolatey without breaking the calorie bank. Without it being full of fat and sugar.  This recipe is for you! 
In the past 6 months or so I've stopped cooking with oil (oil is totally over rated!)  And I've found that you don't lose any flavor or moisture cooking with applesauce instead of oil or margarine- try this recipe or any of my muffin recipes if you don't believe me- I swear you won't miss the oil or butter!!
The thing about these cupcakes though is that you can't tell that they're almost fat free!  They taste super decadent without losing that sweet chocolatey flavor or a bit of moisture.  Give them a try- you won't regret it!
Chocolate Cupcakes with Vanilla Frosting
Prep Time: 10 min
Cook Time: 20 min
Keywords: bake dessert vegan vegetarian whole wheat pastry flour applesauce cupcake
Ingredients (12 cupcakes)
For chocolate cupcakes:
1 cup unsweetened almond milk
1 tsp apple cider vinegar
1/2 cup AP flour
1/2 cup whole wheat pastry flour
1/3 cup cocoa powder
3/4 tsp baking soda
1/2 tsp baking powder
1/4 tsp salt
1/2 cup organic cane sugar
1/3 cup unsweetened apple suce
1 tsp vanilla extract
For Vanilla Icing:
1 cup organic powdered sugar
2 T unsweetened almond milk
1/2 tsp vanilla extract
Instructions
For chocolate cupcakes:
Preheat oven to 350 degrees F. Line a cupcake pan with liners and spritz them with a tiny bit of cooking spray (don't skip this step- it's important since there is practically no fat in the cupcakes! Otherwise they will stick to the liners)
In a liquid measuring cup stir together milk and vinegar. Set aside.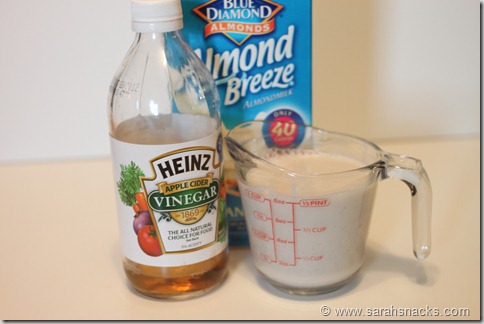 In a large bowl stir together flour, cocoa powder, baking soda, baking powder, and salt. Set aside.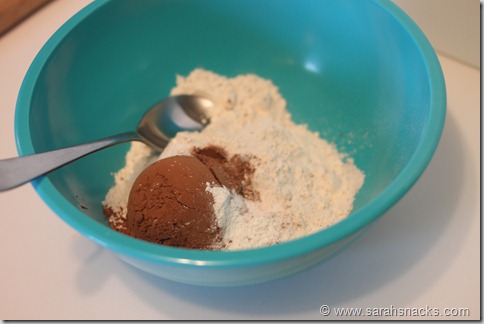 In a medium bowl combine the milk, sugar, applesauce, and vanilla.
Add the wet ingredients to the dry ingredients and stir until just combined.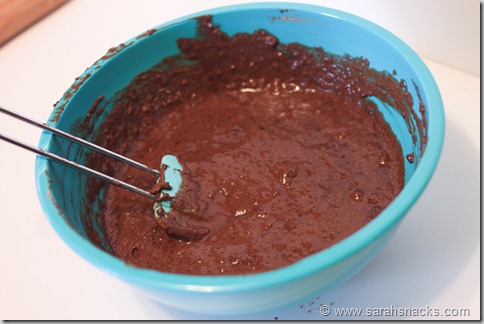 Divide evenly into the 12 muffin liners (I like to use an ice cream scoop to do this- 1 scoop of batter per muffin liner!)
Bake for 18-20 minutes, until a toothpick inserted in the center of a cupcake comes out clean. Let cool completely before icing.
For icing:
Stir together powdered sugar, milk, and vanilla. Adjust to your liking- if it's too thin add a little more powdered sugar, if it's too thick add a little more milk.
Ice each cupcake with 1 Tablespoon of icing.
Note: The icing works best if you refrigerate it for a bit before you ice your cupcakes- this will make it much easier to work with. Also refrigerate your cupcakes immediately after icing to make sure the icing doesn't melt.
Mmmmmm…..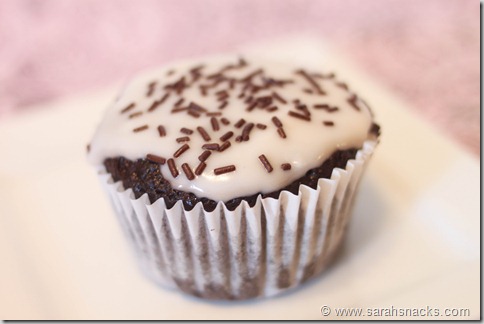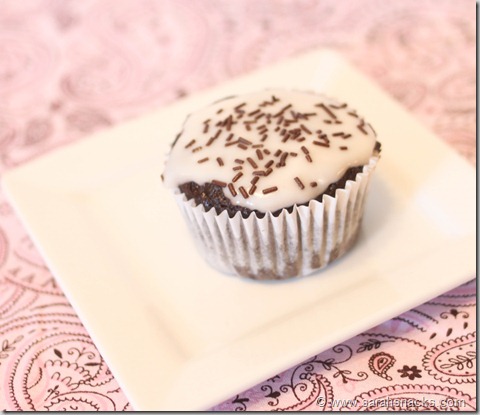 Here's the nutrition info if you want it!
1 cupcake with 1 Tablespoon of icing…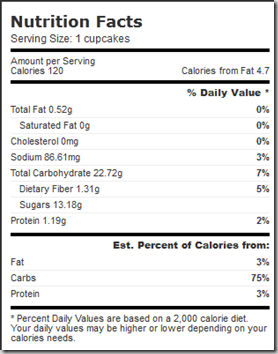 1 cupcake without icing…