Happy Meatless Monday friends!  After you read this head over to Liz's blog to see my first ever guest post!  Oddly enough that recipe also feature's quinoa- and I didn't even plan it that way!
So if you know me, then you know that I'm completely obsessed with not only extremely spicy things, but also with Hatch Chiles!    See last year's Hatch Chile post if you want the deets on this amazing pepper (or if you want to make the awesome Hatch Chile Rellenos that I made last year- trust me, you do!)
It's not quiiiiite time for the Hatch Fest at Central Market yet, but they have already put their chilies out so I grabbed some!  I'll be out of town during the Hatch Fest this year so this may be all I get!  Sadface.
I've been contemplating for months what my first Hatch recipe was going to be this year, and after seeing the Vegan Zombie make stuffed poblanos I knew I had to make Stuffed Hatch Chiles!  This recipe is inspired by that episode of The Vegan Zombie!  Stay tuned for more Hatch recipes over the next few weeks- I've already got a Hatch Sourdough in mind, and who knows what else my crazy brain will come up with!
Without further ado, I give you…
Quinoa Stuffed Hatch Chiles
(Print this recipe!)
Ingredients:
6 large Hatch Chiles (you can use poblanos if you can't get the Hatch)
15 oz can of black beans, drained and rinsed
1 onion, chopped
1 bell pepper, chopped
2 cloves garlic, minced
1/2 cup uncooked quinoa (+ 1 cup water for cooking the quinoa)
1 teaspoon chili powder
1 teaspoon smoked paprika
1/2 teaspoon chipotle powder(optional, but if you want a little extra spiciness you should add this!)
1/2 cup pepperjack cheese (I like Daiya!)
salt and pepper, to taste
Directions:
Preheat oven to 350 F and spritz a baking pan with cooking spray.
Rinse your quinoa and cook it- I use a 2:1 water to quinoa ratio and cook it in my rice cooker, but you can cook it on the stove too! 
While quinoa is cooking, slice your peppers in half lengthwise and scrape the seeds out (tip: I use a grapefruit spoon to scoop the seeds out so I don't have to worry about touching them with my fingers!)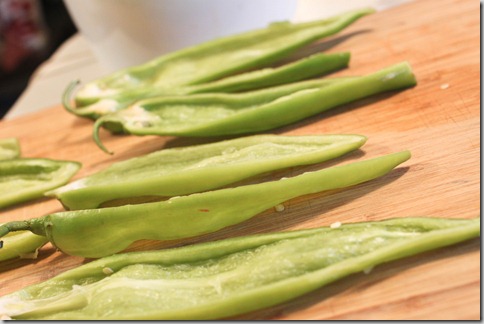 Sauté onion and bell pepper over medium heat until tender. 
Add garlic and continue to cook until fragrant.
In a large bowl, stir together the sautéed veggies, beans, quinoa, spices, and cheese.
Scoop the mixture into your peppers- don't be afraid to get your hands in there and really mound up the filling in those peppers!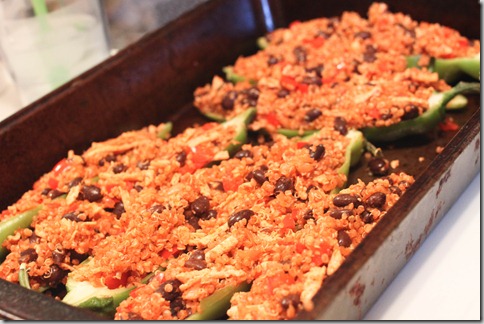 Pop the stuffed chiles in the oven for around 20 minutes, or until the peppers are soft. (start watching them when you get to the 15 minute mark- you don't want them to burn!)
If you're awesome like me, you'll top your stuffed peppers with some vegan queso and a big scoop of guac!
mmmmmmmm……