This is great for a main meal salad or a side dish.  I expect I'll be making this a lot this summer because I loooooove a nice cold salad when it's hot outside!  The original recipe is from Whole Foods- I've only modified it slightly.
Tofu Sesame Noodle Salad
Ingredients:
1/4 cup tamari soy sauce
2 tablespoons toasted sesame seeds
1 tablespoon agave nectar
3 cloves minced garlic
2 teaspoons chili oil (I make my own by simmering  a couple of teaspoons cracked red chilis in about a cup of canola oil for a few minutes then straining the chilis out)
1/2 pound dried rice noodles
1 cup thinly sliced green onions
2 small carrots, thinly sliced
1/2 English cucumber, halved lengthwise and thinly sliced
1 red bell pepper, thinly sliced
6 ounces baked tofu, cut into 1-inch cubes (I hear you can buy it already baked but I've never been able to find it, so I cube it and bake it myself before I use it)
Directions:
In a large bowl, whisk together tamari, sesame seeds, agave nectar, garlic and oil to make a dressing; set aside.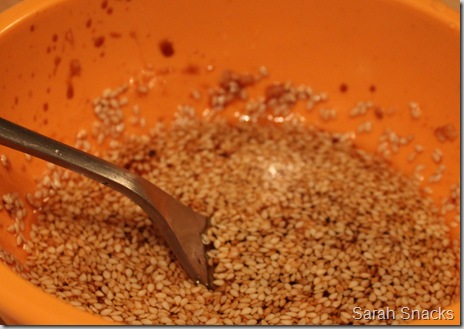 Meanwhile, soak noodles in a large bowl of cold water until pliable, about 15 minutes; drain well.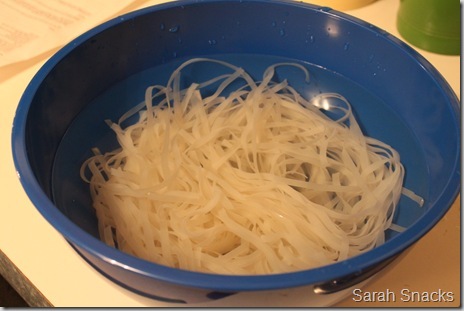 Add noodles to boiling water and cook, stirring occasionally, until just tender, about 5 minutes. Drain and rinse thoroughly in cold water.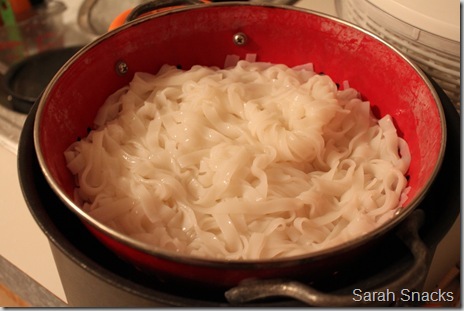 Transfer to bowl with reserved dressing; toss well.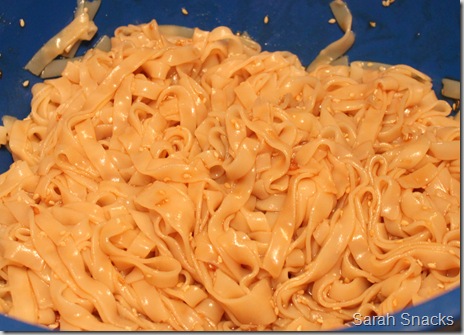 Add green onions, carrots, cucumbers, peppers and tofu.
Toss gently to combine.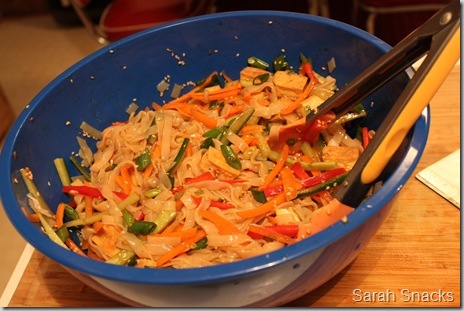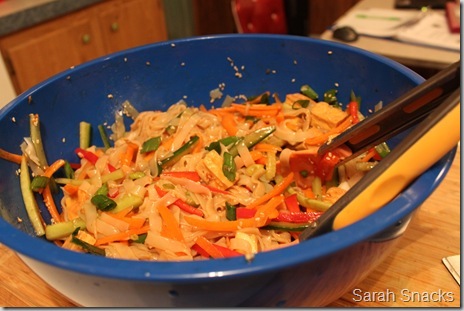 Serve it up with some cilantro to garnish (I totally forgot that I had cilantro on hand- oops!)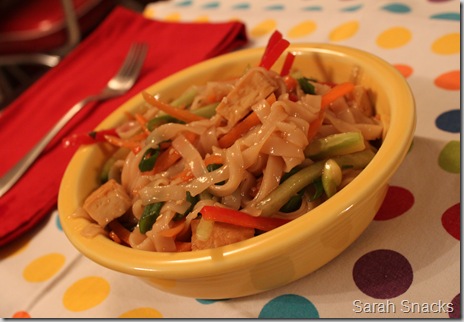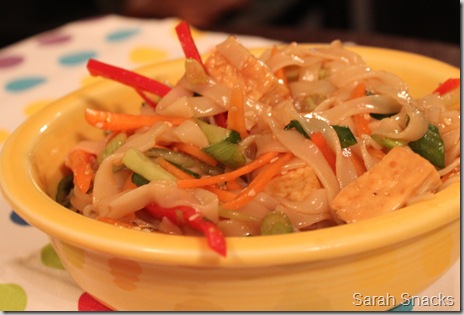 This gets even better the next day after it's had some time to hang out in the fridge!  YUM!
Happy snacking!