Heeeeeyyyy!!!  It's time for another WIAW!!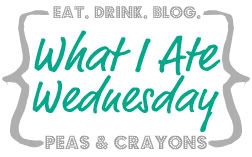 It's the last week of summer school, so I'm sure you know what that means- FINALS!!!  I'm just a teeny bit stressed, though I've reigned it in a bit over the last few days.  I have to keep reminding myself that I can't let my stress take control of me!  And any time I feel overwhelmed I just stop, take a deep breath, try to clear my mind and focus on one thing at a time.  If I keep thinking of all the tests I have to prepare for this week I'll never be able to concentrate on the task at hand.  Keep it simple, Sarah!

Let's just go through my What I Ate Wednesday quickly this week, shall we?  That way I can get back to studying!
And awaaaay we go…
Breakfast:
Peanut butter.  Homemade bread. Not much better than that!  Except for that coffee maybe!  You haven't lived if you haven't tried fresh fruit on your pb sandwich instead of jelly/jam/preserves!!  Strawberries and bananas are my fave, but apples, pears, or even peaches would be great as well!  Now THIS is how to study for a test- total brain food!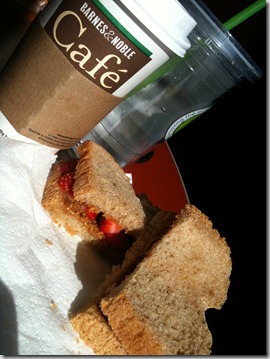 Lunch:  Some leftover teriyaki tofu (recipe from the Peas and Thank You cookbook!) over a salad with romaine, spinach, cherry tomatoes, and broccoli slaw with a few sprinkles of sesame sticks and wasabi sunflower seeds on top!  With Annie's Light Gingerly dressing! 
With a peach and a kids coconut water with fruit juice (hey I'm a kid at heart- that counts right?

)
Iced green tea.  Obsessed!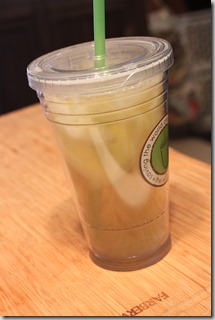 Pre workout snack!  2 pitted dates stuffed with about a tsp each of PB & Co. dark chocolate peanut butter…  (it was as good as it sounds!)
Dinner!  Tempeh BLTs with sweet potato fries!
Nom nom nom! (oh p.s. my oven is broken so I used my grill to make my sweet potato fries- just put your pan on that top rack on your grill so you don't have direct heat!)
What a great day! What are you munching on today??