I haven't done a restaurant review in forever and I thought this one would be a great place to start doing them again!*  I had heard of Z Pizza before but after Matt tweeted about how great it was I knew I had to try it out!
I live in Carrolton, which is a little too far from where Z Pizza is located in Flower Mound to get pizza delivered to us so we went there to check it out in person!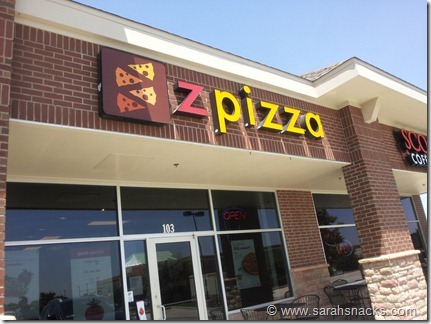 When we walked in we were pleasantly surprised by how fresh it felt inside this pizza joint!
And there are so many different types of pizza/choices of toppings to choose from.  They also have salads and sandwiches on the menu as well.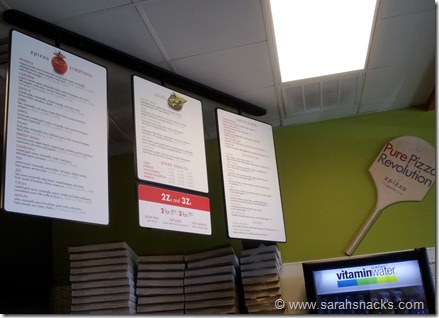 I love how obvious it is that Z Pizza has a commitment to healthy eating and that definitely starts with their dough which  is 100% organic (regular OR whole wheat!!)!  Then they add fresh produce and other toppings of your choice after that!
I've never seen so many veggie options at a pizza place before- it was definitely hard to make a choice!
I couldn't decide between the Berkeley or the California and in the end I went with the California with a whole wheat crust.  (next time I'll check out the Berkeley for sure)
The California pizza included tomato sauce, mozzarella, tomatoes, red onions, bell peppers, mushrooms, zucchini and black olives.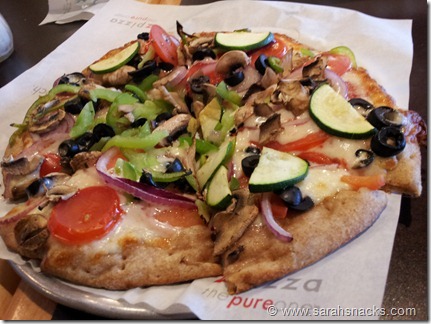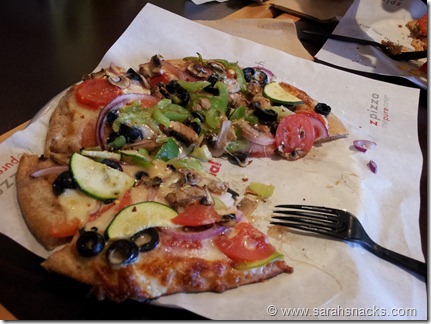 First of all the crust was fantastic!  It was crisp but it still had a nice chewiness to it!
Then there were the veggies- they were super fresh.  I adore  zucchini and mushrooms on my pizza so this was perfection!  It also had the perfect amount of cheesiness on it.  And also they carry vegan cheese!
My only complaint about the pizza was that I thought that it didn't have quite enough sauce on it.  Easily remedied though- that definitely wouldn't stop me from going back!!
Two happy campers with bellies full of healthy pizza!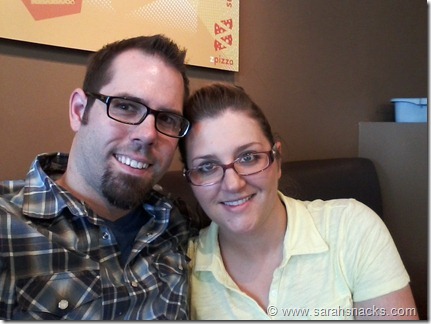 * (Here's the disclaimer where I state that I paid for this meal with my own money. Z Pizza did not give me anything in exchange for this review and all of the opinions expressed in the review are my own!)