There's not much that's more cozy when it's cold outside that any thing that is apple-spiced!  If you don't have a donut pan you could totally make these into muffins and they would be amazing!
Apple Spice Donuts  (makes 10 regular sized donuts)
(Print this recipe)
Ingredients:
For Donuts:
1 cup AP flour
1 cup whole wheat pastry flour
1 T baking powder
1/2 cup sugar
1/2 t cinnamon
1/4 t nutmeg
1/4 t ginger
1/2 cup applesauce
1/2 cup peeled, grated apple
1 cup nondairy milk
1 t vanilla
pinch of salt
For Icing:
1/2 cup powdered sugar
2 T nondairy milk
a small pinch each of cinnamon, nutmeg, and ginger
Directions:
Preheat oven to 350 degrees F.
Combine dry ingredients in a medium sized bowl.
In a small bowl combine applesauce, grated apple, nondairy milk, and vanilla
Add wet to dry and stir until just combined.
Spoon mixture into a donut pan that's been sprayed with cooking spray.
Bake for 12-13 minutes until donuts are firm and slightly brown.
Let cool in pan for 5 minutes.
For glaze mix together the confectioners sugar and milk and dip each donut into glaze.  Let donuts sit until glaze hardens. (NOTE: if you store these in an airtight container the glaze will melt so plan accordingly!)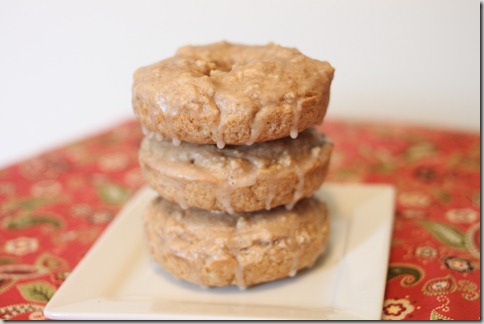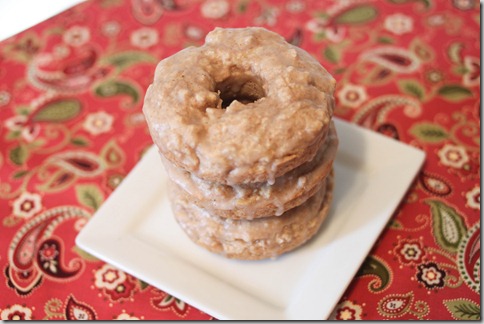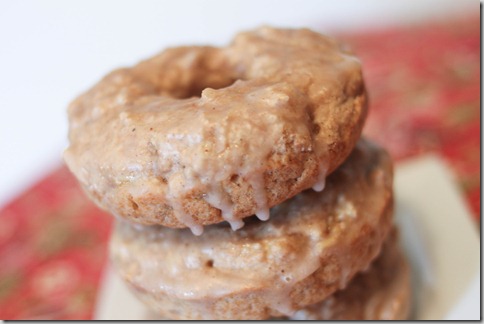 These are SO good!