Brown Rice and Lentils
Ingredients:
1 T Earth Balance 
1small onion, chopped
1 clove garlic, finely chopped
1/2 cup dried lentils (2 oz), sorted and rinsed
1/2 cup uncooked brown rice
1can (14.5 oz) vegetable broth
1/4 cup water
1 t hot sauce (I didn't measure my hot sauce- I just glugged it in until it was spicy enough for my taste.  And I ALWAYS use Franks Red Hot!!!)
1 medium bell pepper, coarsely chopped
Directions:
Melt earth balance in 2-quart saucepan over medium heat.
Cook onion and garlic in butter for about 3-5 minutes, stirring occasionally, until onion is tender.
Stir in lentils, rice, broth, water and pepper sauce.
Heat to boiling; reduce heat.
Cover and simmer about 50 minutes, adding water if necessary, until rice is tender and liquid is absorbed.
Stir in bell pepper; sprinkle with cheese if you like.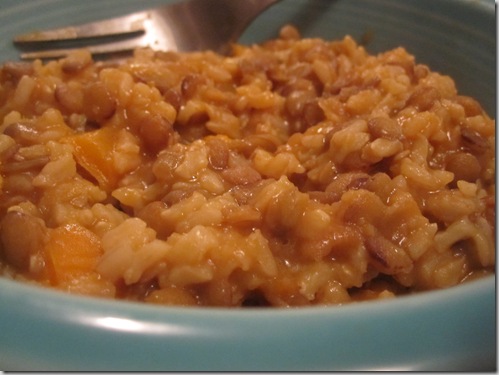 I kid you not when I say this is my new favorite dish!!  I might could eat this every day and never get tired of it.  The only downside is that it takes almost an hour to cook.  But if you can get past the time factor, it is totally worth the wait!  It gets really creamy and smooth and it's just amazing.  This is going to be my new go-to dish for comfort food- move over mac and cheese!!
Two thumbs up!