Is there really anything better than a warm cookie?  Maybe one with THREE kinds of chocolate!  That's right… it's a triple threat!
These delicious little cookies taste like a brownie and a chocolate chip cookie had a love child.  That's no joke friends… I never joke about cookies!
Chewy Triple Chocolate Cookies
Prep Time: 10 min
Cook Time: 10 min
Keywords: bake dessert vegan vegetarian chocolate cookie
Ingredients (2 1/2 dozen)
(Print this recipe!)
1 T ground flaxseed
1/4 cup water
1/3 cup butter (I used Earth Balance)
1/2 cup brown sugar
1/2 cup organic sugar
1 t vanilla
1 cup all purpose flour
1/3 cup cocoa powder
1/2 t baking soda
1/2 t salt
1/2 cup dark chocolate chips
1/2 cup white chocolate chips (if you're looking for dairy free they can be hard to find in the store but they're easy to find and order on the internet)
Instructions
Preheat oven to 350 degrees F
In a small bowl combine ground flax seeds and water. Set aside for 2-3 minutes
In a large bowl cream together butter and sugars (I used a hand mixer). Add flax mixture and vanilla and mix well.
In a medium bowl combine flour, cocoa powder, baking soda and salt.
In small batches, add the dry ingredients into the wet mixing well with each addition.
Fold in chocolate chips by hand.
Drop by the tablespoon onto an ungreased cookie sheet about an inch apart. Press down a little on each ball of cookie dough to flatten it so that each cookie will spread evenly while baking,
Bake 10 minutes.
Let cookies cool 2-3 minutes before transferring to a cooling rack.
I felt like cookie monster when I was making these.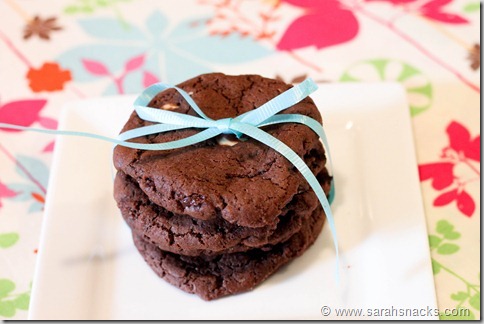 Mmmmm… COOKIE!!!