It's officially fall even though it doesn't feel that way here in Texas- it's still ranging from 95-99 degrees. 

Even though we're not getting any lovely cool weather here, it's still fall and that means it's time for pumpkin flavored things!
It's been a long time since I've had one of the pumpkin spice lattes from Starbucks because the syrup they use has dairy in it and I try to avoid dairy.  I decided it was high time that I came up with my own version!
My version is inspired by Mama Pea's Pumpkin Spice Latte. 
Nothing says fall like a Pumpkin Spice Latte!  Even if it is 95 degrees today.
Pumpkin Spice Latte
(Print this recipe!)
Ingredients:
1/2 cup nondairy milk (if you want it frothy use soymilk- it froths like a champ! I had almond milk on hand so that's what I used)
2 Tablespoons canned pumpkin
1/2 teaspoon pumpkin pie spice
2 Tablespoons agave nectar (or sweetener of choice)
1 shot espresso or 1/2 cup really strong coffee
Directions:
Make your espresso or brew your coffee.  I have a cute little espresso maker that's super easy to use.
In a microwaveable cup mix your nondairy milk, pumpkin pie spice, canned pumpkin, and sweetener.
Microwave for about a minute until the mixture is hot.
Blend the mixture in a blender until it's frothy.
Pour the mixture into a large coffee mug and stir in your espresso/coffee.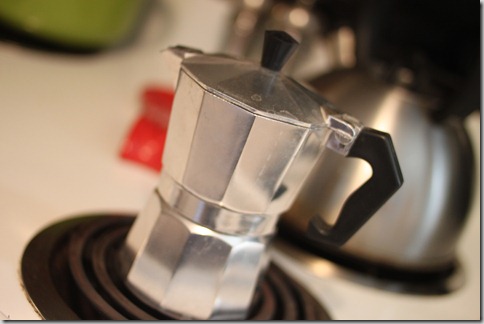 Happy Fall Y'all!