This salad may be low calories but it is no slouch when it comes to filling you up!  Using salsa verde instead of an oil laden dressing will keep it light and all the natural flavors of the food can shine through!  Adding beans packs it with protein and the avocado gives us  some nice healthy fat (why not get your fats straight from the whole food, right?!). Plus all the amazing colors are oh so pretty!!!
Southwestern Salad
Keywords: salad vegan vegetarian salsa black beans Mexican Southwest
Ingredients (2 big salads)
1 head Romaine lettuce, chopped and rinsed
1 cup black beans
1/2 cup corn kernels (fresh, canned or defrosted frozen corn will all work fine)
1 cup grape or cherry tomatoes, halved
1/2 avocado, diced
1/4 cup red onion, finely chopped
1/2 cup salsa verde (or more to taste)
squirt of lime juice
tortilla strips(or crushed tortilla chips) and cilantro for garnish
Instructions
Layer lettuce, beans, corn, tomatoes avocado, and onion in a very large bowl or into two large individual salad bowls.
Top salads with salsa verde, a squirt of lime juice, some tortilla strips and a little cilantro.
Serve immediately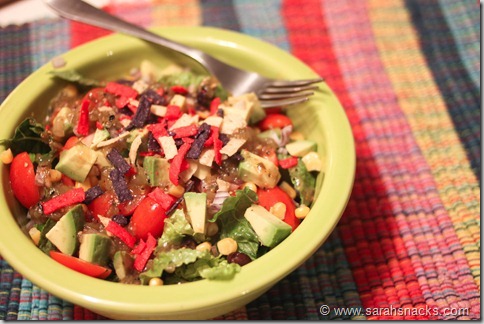 This is one that we'll definitely be making again and again!!
Enjoy!