This soup is so delicious!  It makes a nice big pot of soup, so you can keep munching it for days!  I think this is an old weight watchers recipe- I've had it forever, so who knows where it came from.
Here it is!  Make it now- you can thank me later!  😉
Spicy Black Bean Soup
Ingredients:
1 onion, chopped
4 cloves of garlic, chopped
3 (15 oz) cans of black beans, undrained
big pinch of red pepper flakes
1 tsp ground cumin
14 oz vegetable broth (I go a little shy on this- I like my soup a little more on the thick side)
1 can of rotel (if you  don't like rotel, you can just use a can of plain diced tomatoes or fire roasted tomatoes would be quite tasty as well)
1 can yellow corn, drained (frozen or fresh corn would work well too)
Instructions:
Sautee onion and garlic until onions are soft. (about 5 mins)
Put one can of beans in the blender; add sautéed onions and garlic, red pepper flakes, and cumin.  Cover and blend until smooth.  Pour mixture back into stockpot.
Place second can of beans and vegetable broth into blender and blend until smooth.  Add to stockpot.
Stir in third can of black beans (do not puree first), rotel, and corn into pot.  Bring to a boil, lower heat and simmer for 20-25 mins.
Yields about 1 1/2 cups per serving.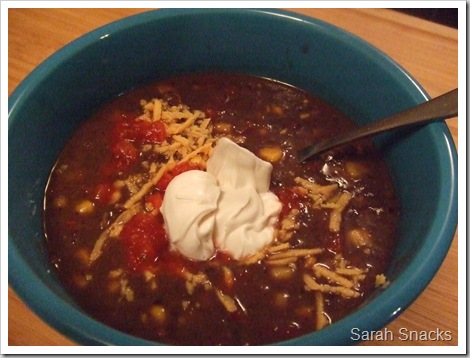 Favorite toppings:  salsa, Daiya vegan cheese, vegan sour cream, crushed up tortilla chips