Hey!  Hope everyone is having a great summer so far.  I have to say that personally I hate summer.  The heat is oppressive and it completely drains all of the energy I have, which is part of the reason why I get absolutely nothing done during the months of June-August.  It's funny that I hate summer so much because 1) I'm a summer baby and 2) I work on a food truck by choice (seriously a big metal box with a kitchen.  It is typically around 200 degrees on the truck.  It's like roasting alive, no joke.)
So in summary I've gotten nothing productive done this summer.  I've started some of my internship homework that's due in September, but yeah, that's about it.  I had big plans for blogging this summer too, but it just didn't happen.  I'm so exhausted from work all of the time that I pretty much don't want to do anything when I'm not working.  Ah well.
One fun thing did happen recently though…
I GOT A NEW CAR!!!!
I wasn't really planning on buying a new car at the moment.  I was planning on saving up for a year and paying cash for something newer.  (I hate having a car payment!)  But my beloved MINI Cooper just wasn't going to make it for another year.  It had been having some problems over the last couple of years, but who could blame it.  I drove that poor little thing into the ground commuting 4 hrs a day for 3 yrs, plus it was 10 yrs old!  The latest round of overheating issues with it made us think that we may need to start looking for something newer.  I just felt like it wasn't going to last much longer and it wasn't going to be reliable for the next few years getting me to school and my internship rotations.
So I started looking around and I fell in love with the Kia Soul.  It's adorable.  And Kia has the most amazing warranty (10 yrs bumper to bumper, and also tire and ding coverage).
We decided to go drive one and I immediately fell in love.  It drives like a dream!  I knew I had to have it.  So we had a decision to make.  We could buy now while we were sitting there in the office talking trade ins and prices even though we hadn't intended to drive away with a car that day or we would be back in that same spot in a few months when my car had completely died.  So we drove home in my new car!!
Here it is!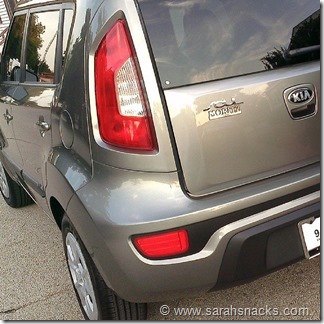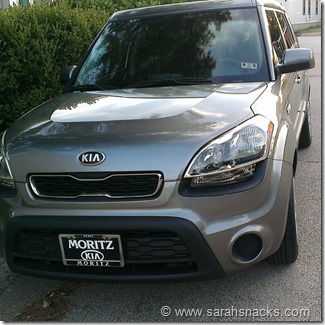 P.S. If you're in the DFW area looking for a new Kia, some of the dealerships are superrrrr sketchy.  Save yourself the trouble and go to Moritz Kia in Hurst.  Seriously.  You'll thank me.
So it was out with the old and in with the new.  I miss my little MINI and it was really really hard to drive away from it (I think I have attachment issues haha)but I adore my new car and I feel so blessed to have gotten it!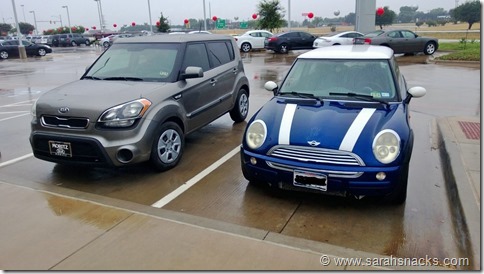 Also, if you were wondering how to get rid of a drought, just buy a new car.  It hasn't stopped raining for more than like a day since I got it.
Till next time!