Let's pretend this is my triumphant return to blogging, okay??  Unfortunately a stack of books is pretty much my life right now.  But I absolutely had to take the time for this post!  Mostly because I have a giveaway for you!!!
So if you know me at all or have read this little mess of a blog you know I LOVE Lavash wraps!!  And there's a certain company of Lavash wraps of which I always sing their praises.  So when they contacted me out of the blue and offered me some samples and a sample pack for me to give away I said ABSOLUTELY!!!  I don't usually take free products on the blog to review.  Mostly because I feel like a lot of bloggers have turned their blogs into one giant advertisement.  But when a company I love with an outstanding product that is so SUPER healthy asks if I want to give away some of their products to one of my friends on the blog of course I'm going to say yes!
California Lavash is my absolute favorite brand of lavash wraps.  They've recently gone through a rebranding.  They are now officially certified non-GMO and they also repackaged their products to make them easier to store without getting squished. 
So here's what they sent me (and whoever wins the giveaway will get the exact same thing):
I got a tote bag (which I've already taken grocery shopping with me- it looks small but it really holds a lot!).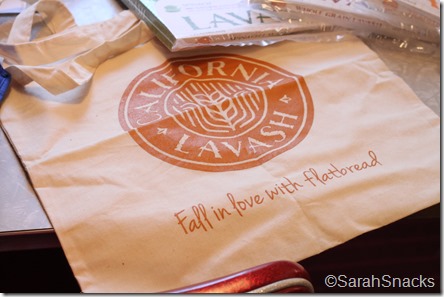 I also got four of their amazing lavash flatbreads.  I got the garlic olive oil, traditional, spinach and whole wheat.
You can do an almost endless amount of things with these nifty little wraps.  But here are a few of my favorites (in no particular order)…
The hummus wrap!  Spread flatbread with hummus, sprinkle with cheese, a few dashes of Frank's hot sauce, place into a hot skillet and brown up on each side.
I served mine up with a cup of tomato soup.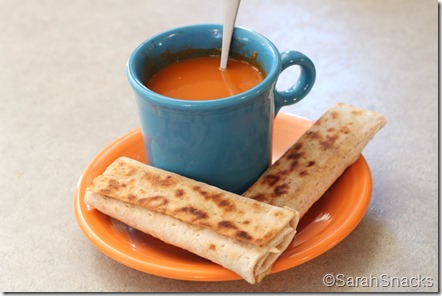 I also made some super tasty crackers.  Just cut them up into cracker sized squares.  Then I spritzed them with a little cooking spray and sprinkled on some of this deliciousness from a  Trader Joes sugar, chocolate and coffee bean grinder.  A cinnamon/sugar combo would also be delicious.  Or you could go savory with some salt and pepper or a little parmesan and Italian seasoning.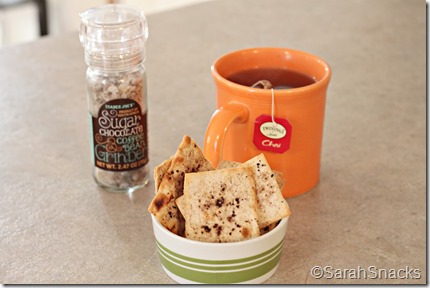 I also made another nice little wrap with one.  I slathered on some hummus, some hickory smoked tofurkey slices and then piled on the veggies.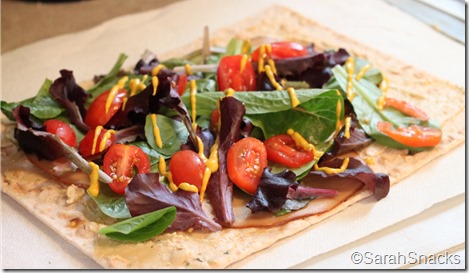 Then I played around with the garlic and olive oil one.  This was one variety that I hadn't tried yet.  I loved this one because it's thick, fluffy and a little bready.  And it was PERFECT for a panini style sandwich!!  My panini had hummus, sharp cheddar, sautéed kale, onion and mushrooms.  It. was. amazing!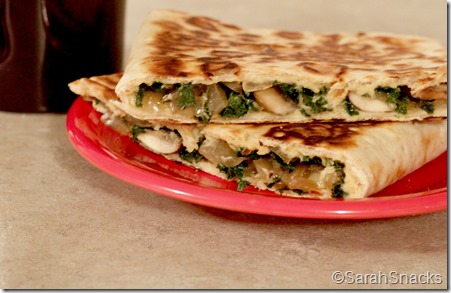 And last but certainly not least, the flatbread pizza! mmmm….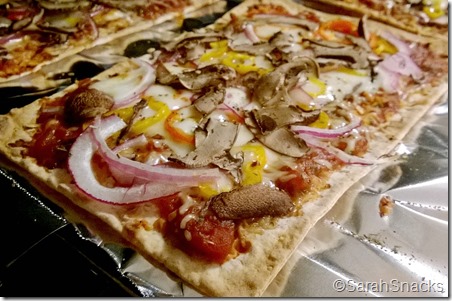 So now here's the part where you win some free stuff!!!  The winner will get everything that I got- the tote, and the 4 different kinds of flatbreads.
Who wants some?  Come and get it!!!
To enter simply leave me a comment in the comment section below!  For one extra entry tweet or facebook about this giveaway (use the share the love buttons below!) and leave me a separate comment letting me know that you did!!   The giveaway will end 11/20/2013 at 8:00 pm central time.  At that time a winner will be randomly drawn and will be announced the next day!  Good luck!